Posted by Boux on 6th Sep 2023
BRA SOLUTIONS FOR EVERY OUTFIT

When summer arrives (hello sunshine) it brings with it some complex outfits. We're talking the strappy, strapless, backless, cut-away and plunge tops and dresses that feature heavily in the style trends of the season.
These styles seem like a great idea, but can become a confusing (and sometimes revealing!) affair of unwanted visible bra straps, fashion tape or accidental slips if you don't plan ahead with the right bra solutions…
When your outfits call for more flexibility than even these versatile summer bras can offer, getting acquainted with the best bra solutions is the trick to making the most striking summer styles work for you - and really working them, too.
THREE BRA SOLUTIONS TO MASTER TODAY
Ask any of our Boux team and they will tell you they always have these three bra solutions in their underwear drawer, ready to deploy for the trickiest outfits.
Strapless Bra: When the weather invites us to sun our shoulders, we don't hesitate. Strapless tops and dresses are some of summer's most versatile styles, dancing the full spectrum of daytime conservative through to Saturday night sexy. We can say the same of the strapless bras available, which have really grown up from their more straight-cut, compressive predecessors.
Take our Microfibre Strapless Bra, which maintains a fuller shape for optimal support, but adds padded cups and soft-touch fabric to provide a more confident look and feel.
For plunge-meets-strapless styles, our Strapless plunge push up bra will rise to the occasion. It'll ensure your bust does too, thanks to the extra-padded cups plus silicone tape edge for a secure undercup position.
Stick-On Bras: What if you need strapless bra alternatives for a style that's heavy on the back detail? That's where stick-on bras come in, and you'll be surprised how much they can do for you.
This Backless and strapless push up bra delivers on its titular promise and gives you a near-magic boost with a combo of padded cups, wired centre front for enhanced cleavage and silicone gel adhesive wings.
It will stay put as is, or benefit from detachable clear back or halter straps for custom fit and styling.
For even more lift from your backless bra solutions, choose the Stick and clip bra. Secure the lightweight silicone-coated foam cups with a clip to control or enhance cleavage appropriate to nearly every neckline - with zero side body visibility, accommodating even the slinkiest backless styles.
Multiway bras: Detachable straps give all the bra multiway adaptability, giving you confidence to wear those cross-back, halterneck, low-back and combination styles with poise.
For long-wear multiway versatility, you want your bra to fit as much like a second skin as possible. That's why we champion our Microfibre moulded strapless bra, which is unpadded yet innovatively moulded with soft microfibre and a wide elastic back strap that creates support without compromising comfort. Its detachable straps are ready to support you with whichever straps (or absence of straps) your look calls for.
BRA ACCESSORIES TO THE RESCUE
You think knickers are your bras' best friends? You may be overlooking some of the leading supporting accessories to (or substitutes for) your favourite bras. How many of these accessories do you keep in your underwear drawer, and which ones are you missing?
Nipple Covers: Arguably the simplest and best no bra solution, Silicone nipple covers (pleasingly shaped like petals) offer discreet coverage when you need to go bra-less. They're also ideal as an additional layer of coverage under sheer bras - perfect for the transparent dress trend currently reigning. Prefer a softer feel? We have Satin nipple petals, too.
Clear Bra Straps: Transform a strapless or multiway bra into an even more versatile support act with transparent bra straps. Both our Clear bra straps A-D and Clear bra straps DD+ are adjustable and can substitute for fabric detachable straps to provide support while remaining discreet under summer's leading styles. They're our favourite bra solution for bigger breasts.
Low Back Convertors: If you want to go backless, but not support-less, a Low back converter will conceal your bra's back strap under nearly any low-back top or frock. Simply attach the hook and eye of your bra to the converter, wrap around your waist and connect to the opposite side. Supportive, subtle and simple!
Racer Back Convertors: One of the most ubiquitous tank tops of summer, the racer back once made bra selection a chore. No more, thanks to our Racer back bra converter, which helpfully draws the bra straps together so they don't peek out.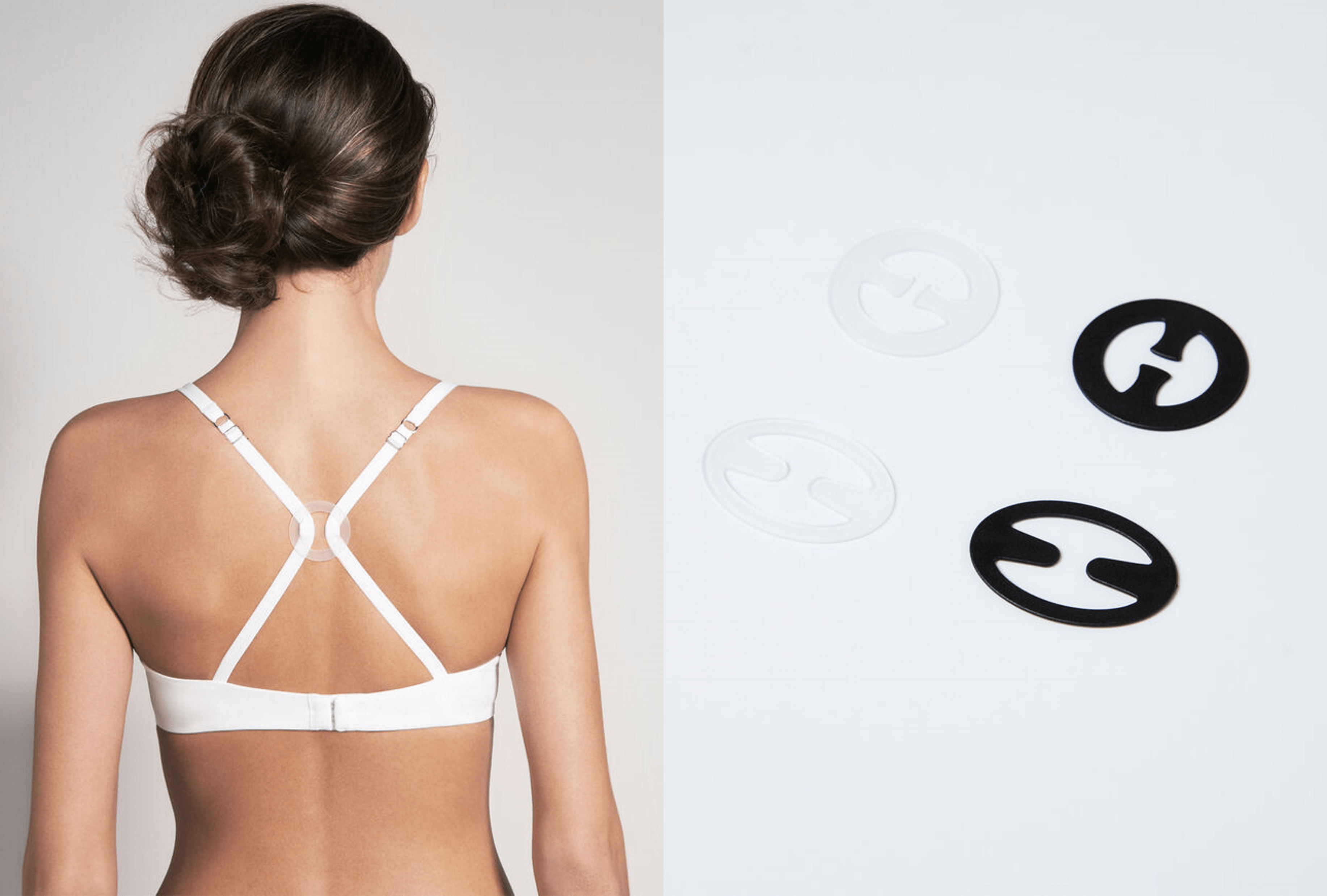 Boob Tape: Perhaps conventional secret tape - affectionately known as tit-tape - is enough to secure your dignity with its double-sided adhesive action for unpredictable necklines.
It's held rank in our underwear drawers for decades, and for good reason. But there's another dual-action tape in town and it doubles as an adhesive and a hidden bra-less yet bra-like enhancement: Breast lift tape. Available in two sizes, A-D and DD+, gently secure it below the nipple and in the direction of the shoulders to welcome its uplifting effect, without the need for a bra!